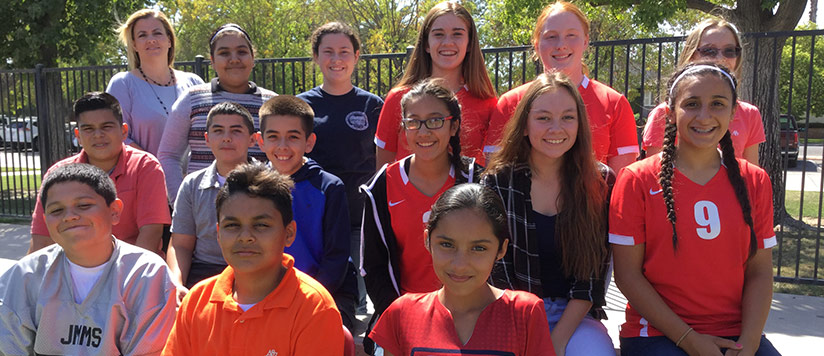 Our School
John Muir Middle School is one of six schools in the Corcoran Unified School District, and we serve a student body of sixth through eighth graders. Located in the San Joaquin Valley of California, JMMS students and staff members are proud to live in the fertile heartland of central California. We take pride in adding to the strong sense of community in Corcoran and strive to prepare our young students for success, whether in an exciting academic career or in using their skills to help improve the community after earning a high school diploma.
We maintain a strong positive behavior influence in our classrooms and expect and encourage strong characters and an optimistic outlook from our students. With these expectations in place, we find that our students have more freedom to grow in a safe, encouraging environment.
We Value Respect
Here at JMMS, we take pride in living by the motto "Wildcat OPS!" We encourage our student body to model their behavior and learn the important principles of respect. Respect is the foundation that we expect our students to build upon as they learn and grow during these influential years. "Respect for: Others, Property, and Self" helps to guide our students' lives in and out of the classroom. These valuable attributes will help them succeed as they move on to high school and adult life.
Beyond Academics
John Muir Middle School offers much more than a rigorous curriculum to keep your child's body and mind healthy and prepare them for the challenges that will come with higher education. We use technology in every classroom and design our courses to enhance our curriculum with skills that will give them a leg up in future classrooms and projects. We also offer an incredible athletics program and many exciting electives and extracurricular clubs.
These are important years for our students, and we work hard to give them the tools they need to succeed. Please take a moment to read our Single Plan for Student Achievement to learn more about our goals for student success.
New this year at John Muir is our 8th period home base class. This is a 22-minute advisory setting that has as its primary goal the creation of a personalized environment that supports each student's intellectual, ethical, social, and physical development. Through home base, every student will have a mentor, advisor, advocate, or other adult he/she trusts and stays in relationship with throughout the middle school experience. Strategic lessons, team building, and a focus on building a relational capacity we feel will create a school culture where students are known and feel known consistently by at least one adult. Through home base we expect our students and staff to:
Develop constructive peer relationships and team-working skills
Develop problem-solving and conflict resolution skills
Learn to be more self-aware, self-managed, and self-directed
Understand their role in contributing to community
Listen to and understand others' perspectives
Have fun!