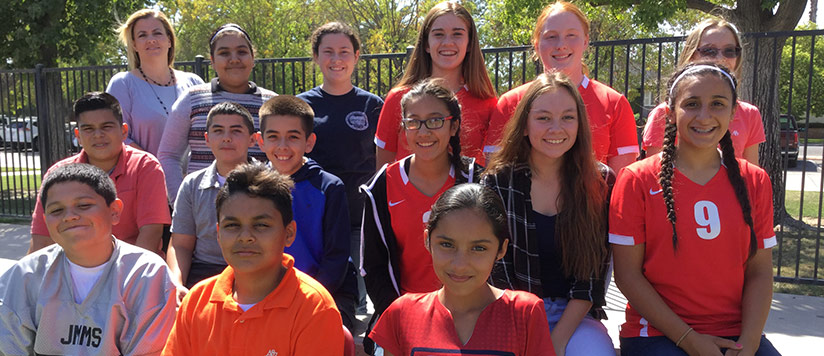 Choose John Muir Middle School
Our goal at John Muir Middle School is to prepare all students for high school and post-secondary education through a standards-based academics program that promotes strong ethical character, critical thinking skills, and emotional and physical well-being. Our talented educators are committed to providing the best educational experience for our student body. We recognize that parents have a choice in which school their children attend, and we are confident we have some exciting reasons why you should choose JMMS. The dedicated group of John Muir teachers and administrators are not only highly qualified, but they're truly passionate about education in general. They incorporate positive behavior intervention model (PBIS) in the classroom and are committed to providing academic support for all students. Our mission is to send all of our students on to become future high school graduates by creating a culture of high expectations and character development. In addition to academics, John Muir students can get involved in a variety of sports and extracurricular activities. These help reinforce import skills that foster leadership, team building and social-emotional growth. 
The last two years our school has participated in the Student Spaceflight Experiments Program (SSEP). We are very proud to be the only middle school in the state of California to participate in this prestigious program. To date, two separate groups of John Muir students have had the science experiments they designed sent to the International Space Station. The SSEP is an accomplishment that our school and the community as a whole should definitely feel very proud of. This is yet another example of how our school remains committed to fully preparing our students for a brighter future. 
One2One Device Project
Our One2One device project is a district-wide technology learning program—an Apple Distinguished Program. Apple awards this title to qualifying programs that have shown success integrating Apple devices with education. We recognize the impact technology has on education, and we are thrilled to have the device project as a tool to integrate the latest advances in learning through technology in the classroom. Please visit our Technology page to learn more about the impact of technology in the classroom. 
Student Spaceflight Experiment Program
John Muir was a member of the SSEP Student Spaceflight Experiment Program for Mission 12 and Mission 13. We look forward to participating in additional missions in the future. We have now had two experiments from our students performed on the international space station. Our students then present their findings at the Smithsonian in Washington, D.C. as microgravity scientists.
Award Winning Campus
We are a PBIS Gold Winner since 2016–2017. We have won the Bonner Center Character Civic Education Award from Fresno State the last two times we have been eligible. We are an Apple Distinguished School have been continually since the program was established at the school level, and we were part of an Apple Distinguished District before that.